Bulgarian Money
Go to: Money exchange in Bulgaria | Getting money by other means | Cost of living | Cost of living | Tipping
Bulgarian money is called lev (pl. leva) and is available in form of coins and notes. The coins start from 0.01 leva (1 "stotinka") and are as follow: 1, 2 and 5 stotinki - these are yellow and small. Then follow 10, 20 and 50 stotinki - which are silver. The largest regular coin is 1 lev. There is no banknote for 1 lev - the notes start with 2 leva and then follow 5, 10, 20, 50 and 100 leva. There are no larger notes, if you are offered one, kindly refuse it or offer a plot on the Moon in exchange.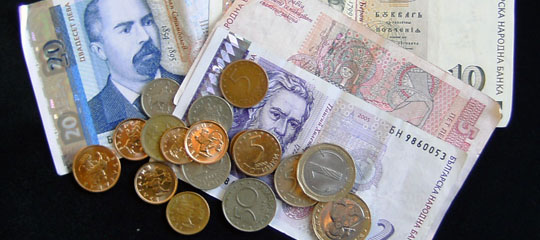 At any time you can check how the actual notes and coints in circulation.
Money exchange in Bulgaria
The exchange rate to the € is fixed and never changes. One € is 1.96 leva. When you exchange money in bank or a change desk you may be offered a rate between 1.80 and 2.10 leva for 1 €. I suggest you stick to the range of 1.90 - 2.05 or refuse the offer. The USD and other currencies are exchanged using cross-reference rate based on the €, so get a calculator with you and check whether the rates make sense.
It's not common but there are some exchange offices which will mislead you with funny digits or hidden commissions. Be careful and feel free to refuse exchange which seems unreasonable. Never exchange money on the street or outside a bank or exchange office. There is almost no risk of getting fake notes so there is no need to worry about this.
Getting money by other means
ATMs are widely spread in Bulgaria. You'll find them next to bank offices, supermarkets, post offices, literally everywhere. Visa, MasterCard and Dinners Club cards will work in most of them. Using an ATM is relatively safe way to get local currency here so if you have international credit or debit cards you can avoid exchanging cash money entirely. The only places where finding ATM might be a problem are the villages.
Western Union and Money Gram offices are presented even in small towns. They are another secure way to get money here in case you have to.
Costs of Living
It's hard to give precise information about cost of living in any country, but I'll give you some rough idea what to expect. In any case be covered with more money than you expect to spend.
Let's split the costs of living in a few most important categories:
Food and eating
Some common rules: eating outside is more expensive than buying food from the stores. Eating in the central areas is more expensive than food in the suburbs. Eating in a restaurant in a big city is more expensive than eating in a restaurant in a village (if you find any at all). However the prices in the supermarkets in the cities are often lower than those in the stores in small towns or villages.
Here are few approximate costs of food in Bulgaria:
Street food: meatballs, donner kabab, burgers - €1 - €2, up to €5
Street food: pastery, pretzels, donuts - €0.3 - €1
Lunch or dinner in a middle class restaurant or pizzeria: €5 - €10
A bottle of beer: €1 - €2
Mineral water 0.5l - €0.5
A bread - €0.5
Costs in sea resorts can be drastically higher than this.
There's a lot more to say about food in Bulgaria than how much it costs.
Accomodation
There are few hostels in Sofia and other cities. Prices start from €7 - €8 for a bed in dorm room to €20 for a private. Hotels are more expensive. Private quarters can be found everywhere but very often they are held by greedy old witches which will try to get you more and won't agree to take you for only a night or two.
If you plan traveling within Bulgaria, or the neighbor countries definitely consider traveling overnight. The price of a second class sleeper bed in the trains is only €4 and it's reasonably comfortable. First class is a bit more expensive but still beats the cheapest hostel.
Transportation
In most cities and towns there is some form of public transportation - buses and/or trolleys. In Sofia there are also trams and metro. The price of the ticket in Sofia is €0.5 and you must have a ticket before getting on the vehicle. Do not enter the vehicle without a ticket - you may have to deal with the controllers and this is usually not nice - many of them are rude and unhelpful, don't speak any English and their salary depends on the number of fines they collect. The fine is €5 if you have no ticket. Usually you can buy tickets from the driver, but don't rely on it.
Taxis are available almost everywhere and cost about €0.4 - €0.6 per km. Be very careful when taking taxi from the airport or the station - there are drivers who charge €5 or more per km. Always check the fee before getting in. All taxis should have a meter and provide you with a receipt for your payment.
To travel within Bulgaria you can use buses, trains and few planes (from Sofia to Varna or Burgas). The cost for a journey between Sofia and Varna is around €10 - €15.
There is a lot more to say about transportation, so check the page about it.
Tipping
Tipping is accepted and expected in restaurants. You can leave around 10% of the bill, but if you just round up 1-2 leva above the exact amount of the bill, it will be also fine.
Taxi drivers expect a tip too but most will at least pretend to try giving you the change if you don't insist to tip. Some will pretend to have no change if you don't tip them.
Tipping is not expected but typically not refused in supermarkets and local stores. You are unlikely to insult someone so feel free to tip if you wish, just don't insists if the tip is refused.
comments powered by Disqus