How To Choose a Good Hostel: 10 Things To Watch For
What The Backpacker Really Needs From a Hostel
Choosing a hostel is one of the most fun things we do when preparing for a trip. Sometimes it can take hours to watch at the pictures and read the reviews, especially in cities that have a lot of hostels. While the experienced backpacker can sleep anywhere, the hostel quality is not a thing you should underestimate. When going on a trip you are often exhausted from long overnight flights or hours of walking with a backpack on your back. A bad noisy hostel with no security, no working bathroom, or cockroaches in your bed can easily ruin the trip. So let's put some effort when choosing a hostel.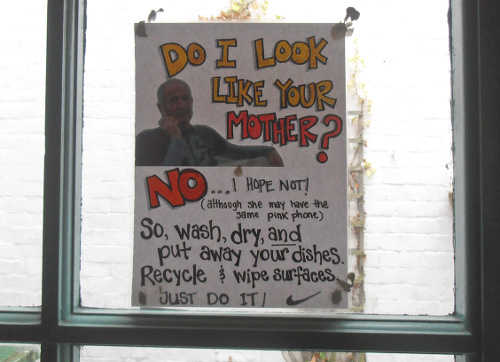 Arnie's hostel in Belfast, Nothern Ireland :)
Below are ten of the most important things to look at when choosing a hostel, not given in particular order. We usually choose our hostels through HostelWorld - the site has a lot of properties listed with good navigation and many reviews. You may have another way of finding hostels of course.
I will not discuss the price between these 10 things - it's clear that when choosing a hostel you are looking for affordable accommodation. And you have much better idea how much you can spend for sleep during your trip than me. Most hostels offer large number of options anyway - from the cheap beds in dorm rooms to the more expensive private "ensuite" rooms. So, here are ten things to look at, besides the price:
1. Visitor Reviews
| | |
| --- | --- |
| | Whenever possible, check visitor's reviews. They are the best source of information - no matter what the advertising text says you can easy spot a crappy hostel by the bad reviews. Sites like HostelWorld and TripAdvisor have a lot of real user reviews so check them before you choose. Don't get every single complain too seriously - bad thing sometimes happen, and some travelers are never happy. But lots of bad reviews on a hostel listing are a sure red flag. |
Have in mind that in general women are more strict when it comes to cleanliness and comfort so pay attention to gender and age of the reviewer and adjust to your personal expectation.
2. Bathrooms
A backpacker may have a day or two on airports and train travel before reaching a hostel. Then every day you'll walk a lot, often in hot and dusty streets, at least if you are traveling like us. Because of this, being able to take a bath is vital for your sanity. Double the importance for girls. So decent bathrooms are one of the most important things in a hostel.
Budget options usually come with shared bathrooms which means sometimes you won't be able to take a shower immediately when you want to. You should be prepared for this but at least make sure there are enough baths in the hostel. Usually you'll learn about the baths quality from the hostel reviews. Watch also the pictures if there are any.
3. Internet Connection
As our business never fully closes shop I have to check emails at least daily or so even on a trip. Maybe you don't have such problems and you think having internet connection is not that important. Wrong! Here are other reasons why a backpacker needs to have wifi access in the hostel:
To check weather forecast for the next destination
To book the next hostel, plane tickets, train or bus tickets
To research about a route you want to take next
To check the current safety/security situation in your next destination.
To check actual currency exchange rates so you are not cheated
To see maps etc
For example last year (2011) we were in Belfast and planned to go to Derry exactly at the time where they had riots there. But we were able to check online that the situation was OK then, and we went there. (A great place to visit by the way).
So always prefer the hostels with free internet and preferably a room with computers unless you bring a laptop and/or tablet with you like we do.
4. Location
What makes a good hostel location? Most important, it should be easily reachable from the airport or rail/bus station depending on where you arrive and from where you leave. A hard to find or too far located hostel can waste a lot of your time and money. Many hostels are located near railway stations so if you travel by train you will often find accommodation at a walking distance. If you are flying forget this option, as airports are usually far of the city centers.
Central location is less important but also not to be neglected. You would prefer to be at a walking distance from the major things you want to see. You will often want to stay outside till late evening so it's better if the hostel is at an easy to reach and safe location.
5. Food
Many hostels offer free breakfast, free pasta etc. The importance of this depends mostly on your destination: if going to a country with low standard and prices, you may safely ignore this as selection criteria as you'll be able to find tasty food for cheap anywhere. If going to an expensive country (for example like Norway), free breakfast turns out to be important bonus.
As most hostels offer some kind of continental breakfast we sometimes skip it (especially on the cheaper destinations) to favor eating local food outside.
It's quite a good idea to have a kitchen so you can prepare something yourself, at least coffee and tea. Besides saving money it can help you start your trips in the morning quickly instead of searching for a coffee shop.
6. The Owners
We highly prefer family owned hostels to hostel chains or budget hotels. Small family owned hostels have better atmosphere and usually treat their guests with a lot more attention. The best option is to find a hostel owned by experienced backpackers as they know best what you need during your stay.
If you can't find information about the owners in the listing, drop them an email to ask or say something and watch the response. Dry, cold or too official response usually comes from staff in big hostels. If the owners answer themselves, that's a great sign in my book.
7. Airport Transfers
When you are flying always prefer hostel that can arrange airport transfer for you. Even if they'd just call a taxi driver it's better to use their reliable taxi driver than just random one from the street. Reliable airport transfer is a lot more important in developing countries as there random taxi drivers can overcharge or cheat you. It becomes even twice more important if arriving or leaving during the night/early morning. In some other post I'll tell you how I had to pay 800 rupees (nearly $20) for airport transfer in a scary dark street in Mumbai, when the regular price would be no more than 200 rupees :)
8. Check In / Check Out Times
In most cases check-in and check-out times are around 12 o'clock. It's often an advantage if you can check-in a bit earlier in case you are arriving from a night flight. If you arrive very early in the night (many flights arrive about 3 AM - 4 AM), I strongly recommend you to book even the previous night. So you can go straight to the hostel and get some sleep early morning. This is much better than trying to make your first trip in the city tired from the overnight flight and with all your baggage with you. Believe me, we've done that and it's not nice :)
9. Baggage Storage and Lockers
If you have to arrive before check-in time or leave after check-out time it's always a great idea to be able to leave your baggage in the hostel for few hours. This way you can enjoy some time outside without bringing heavy backpacks. Check if the hostel allows this - many will do it for free, and some will charge small fee.
Another aspect of this is having baggage lockers - very important if you are sleeping in dormitory rooms. As much as I want to say that backpackers are not this kind of people, we've seen all kind of idiots in hostels. Being able to lock your baggage will make you peaceful and save you needless worries during your trip.
10. Fun
Pay some attention to the "fun" rating of hostels. I'm not saying it's a bad thing. But you should make it clear to yourself what you are looking for when choosing a hostel. If you want to meet new people and have fun, drink, etc, then prefer hostels with high "fun" rating, large common rooms, lots of students etc.
We usually prefer quiet hostels that don't allow large parties. During the day we walk a lot and we rarely stay too long at a place to be able to afford sleepless nights, so taking good sleep is important. And if we want to have fun and meet people there are enough places to do this outside of the hostel.
Are you a hostel owner or planning to start a hostel? Check out the WordPress plugin Hostel Pro, it will let you create your site and handle your bookings with very little expenses.
comments powered by Disqus