Places to Visit in Bulgaria
In this article: The Cities | Small towns and villages | The sea and beach resorts | The mountains | Other interesting places
When visiting Bulgaria, you are most likely to come in Sofia (the capital) first. There are plenty of interesting things to see and do in Sofia, but it's not everything of Bulgaria. If you have the chance to stay here more than a couple of days, make sure you go out of the big city - there's a lot more to experience.
On this page we'll list some of the interesting places you may want to visit.
When possible we'll link to articles with a more detailed information about each place, how to visit it etc.
The cities
Sofia, Varna, Plovdiv, Burgas - these are the main big cities here and you may have heard of them because of the airports. Sofia is not only the capital, it's also the largest city with around 2 mil. people, with trams and metro, ghettos, big distances, night clubs, hotels, traffic jams, malls and so on. The others are much smaller (with less than 500,000 inhabitants each), and generally better organized and set. Each city has its own charm and specifics but the differences aren't huge. So if you have the time to visit only one, Sofia remains your best bet. There is no sea in Sofia, but there is a nice mountain just near it. Most international airplanes, trains and buses land in Sofia, and so do most of the local trains and buses.
If you prefer the sea, no doubt you'd better visit Varna or Burgas. Both are quite similar with ports, Marine Gardens and soft climate. You can reach them by a bus from Turkey, by airplane (a few airliners go there) and by any means of local transportation.
Plovdiv is in the middle of the country, in the beautiful Rhodopes mountain. It's easy reachable from Sofia by train or highway. Few international airlines fly to Plovdiv, including the lowcost Ryanair.
There is a number of smaller cities with population 50,000 - 100,000 each, for example Pleven, Dobrich (in Dobruja), Sliven, Shumen, Haskovo etc. If you are staying in Bulgaria for a long time, it's worth to visit some of them. The life, traffic and everything in them is a lot more peaceful while at the same time they have most of the benefits of the big cities - supermarkets, malls, cinemas, public transportation etc.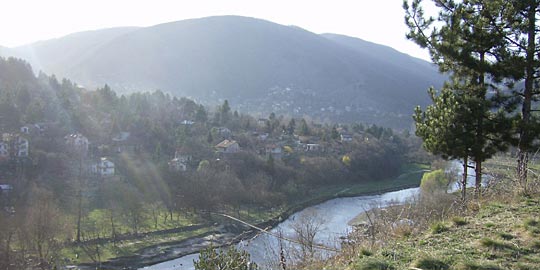 There are nice villages just near Sofia. This one is Vlado Trichkov.
Small towns and villages
Bulgaria has hundreds of small towns and villages. They are completely different than the big cities. Some would say that if you want to experience the real Bulgaria, you should visit some of them. While I can't completely agree, considering half of the population lives in the big cities, small towns and villages have a lot to offer. They are good to see people closely, or sometimes the life like it has been a century ago, and to have some carefree time more close to the nature.
There are many small towns with population of 5,000 to 10,000 which barely differ from a village. Many people live in houses, keep animals and grow food in the gardens. Such small towns are often near big cities and very easy to reach - for example near Sofia there are towns like Svoge and Kostinbrod which can be reached by public transportation in less than an hour.
If you prefer more exotics, visit some village with 20 - 30 inhabitants in the Rhodopes. They may be remote from the cities and harder to reach due to bad roads and lack of public transportation. Once you are there however you will feel like completely detached from the civilization. Sometimes this might be a bit depressive as there are a lot of tumble-down houses and only old people, but in general they will be nice to you and hospitable, and the experience will be really unique.
The villages which are very close to the big cities are very different and often inhabited by people with expensive cars and bad architectural taste. There is not as much to see in them as in the remote villages, but they are much easier to reach - often just by using the city buses.
Learn about towns and villages near Sofia.
The sea and beach resorts
The Black Sea borders the East side of the country and towns like Varna and Burgas are great places to visit it, and go to the beaches. By all means, go to one of these cities, sleep in a hotel/hostel or private room in the city and visit the beach when you wish. It's a nice way to be at the sea and at the same time to experience some of the real life in the country.
If you are one of the unlucky souls who came here with a holiday package, you'll most probably end up in some of the sea resorts like Sunny Beach, Albena, Golden Sands and so on. There aren't many positive things to say about them. Most sea resorts are crowded, overbuilt, expensive, the service is bad and you are going to see only tourists, touristic souvenirs, fake "authentic" performances and fake "authentic" food. Yes, I know the uncle of the friend of your sister knows someone who was in Albena in 1986 and had spent wonderful time there. Exceptions are possible, but that's why they are exceptions.
Learn more about the Bulgarian places at the Black Sea coast
The mountains
We have beautiful mountains - not as high as the Alps, but good enough for nice hikes if you like doing this. Just next to Sofia is the mountain of Vitosha - easiest to reach, supported with a couple of lifts, ski slopes and huts. In the weekends, and especially in the summer the main routes in Vitosha can be a bit crowded by locals.
If you have a bit more time, do visit Pirin and Rila where is the highest peak - Musala (2925m). Rila can be visited from Samokov which is just 1 hour away of Sofia and Pirin is most often approached from Bansko (2-3 hours with a bus or car away of Sofia). Very interesting mountains are the Balkan and Rhodopes.
Since Bulgaria is a small country, the mountains are easily reachable from cities and towns and usually by public transportations. There is a large network of huts but you should get informed about the current conditions because some of them may be abandoned or in very bad condition. Visit The Bulgarian Mountains for more detailed info about specific mountain huts.
If you are into skiing, check the article about ski and winter resorts.
Other interesting places
There are interesting landmarks and places like the famous Perperikon which worth visiting especially if you are interested in cultural and archaeological kind of stuff. You may also want to check the 100 Tourist Sites of Bulgaria.
There are also some interesting artifacts from the years of communism with perhaps the most remarkable being The monument of Buzludja.
If you love the beautiful views, visit the Valley or Roses.
See also 15 best places to visit in Bulgaria by The Crazy Tourist.
We'll be adding more places here as it comes. Sometimes it's surprising to figure out how many interesting places you have not yet visited in your own country. If there is specific place you want to visit and need advice, you can send us email. It will be a nice reason for us to go there and explore for you.
comments powered by Disqus