Safety in Bulgaria
Bulgaria is generally a peaceful place - we have not seen wars for many years, there are not many poison animals, natural disasters are rare and terrorist still do not target our cities. There is no convincing safety reasons to avoid visiting the country.
Of course there are various risks for the traveler - some not much different than anywhere else, some specific for the country or the region. Let's talk about the main risk categories:
Crime
While most Bulgarians will tell you they suffered from some sort of crime once or more times in life (and it's true), the things aren't really as bad as this sounds. Street violent crime is rare and you shouldn't worry much about it as long as you use common sense and avoid conflicts. Here are some events and places which can expose you to a bit higher risk of violent crime:
The ghettos. Big cities usually have one or more ghettos. You are unlikely to end up there by coincidence - they are easy to recognize from distance (if you have good nose you won't even need to see them). Just avoid them especially at night.
Night clubs and bars. These places are sometimes magnets for aggressive people and drunk teenagers. This seems to happen a lot more often in the mass discotheques and folk clubs than in the more expensive and exclusive music clubs.
Rail and bus stations. These places are often full with shady elements.
Football matches. I have no idea why you would ever want to watch Bulgarian football but maybe you have found a reason. It's good to know that this isn't always safe, although it's not as risky as in other European countries.
Crowded public transport and other crowded places are targeted by pickpockets. Bulgarian pickpockets are just as skillful as those in the other countries, so reading a general article on pickpockets is going to be useful.
I'm surely missing some potentially dangerous places, but most of them can be recognized by using common sense. Don't get obsessed by looking for danger signs, this is not Somalia.
Prostitution, gambling and other gray areas
If you are interested in such services you should have in mind the risks. They are not illegal but you never know when you can break some law on the side - for example you can be offered an under-aged prostitute, corrupted cops may appear suddenly and pretend you are doing something illegal, or you can be robbed in a dishonest game-room. I guess Bulgarian jails are not in your must-visit list, so perform some research before using any kind of semi-legal services or dealing with shady persons.
Begging
Begging isn't exactly a safety topic, but it's related to crime and can expose you to some sorts of it. Beggars in Bulgaria are mostly located in the big cities - in the city centers, around stations, hotels and markets. Arrogance is rare - most beggars will just stay in some place with outstretched hand or a hat/cup and possibly say something to invite you. Some beggars (especially children) may come in or around bars and try to beg next to the tables. Some may become more insisting when they figure out you are a foreigner.
It's up to you whether to give to beggars or not. But you should know that most of these people are making good money this way and are there by choice. Kids are often controlled by gangs and sometimes are intentionally crippled to cause compassion. When giving money to them you are not helping anyone - you are supporting the mafia. If you want to help the society, there are much better ways than giving money to beggars.
There is some risk for you when dealing with beggars - they sometimes act together with pickpockets and other criminals and begging is just a test to see how much cash you have and where you keep it.
Road traffic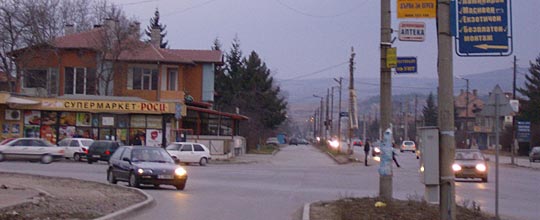 Road traffic in the cities can be a bit dangerous. Many drivers don't follow traffic rules, drive too fast, don't wait for the pedestrians and won't stop even on a zebra crossing. It's always wise to have a look for fast driving vehicles before crossing the street.
If you are driving a car or bike here you may need some time to get used to the aggressive driving of many, to the quite popular breaking of traffic rules, and to the swearing of other drivers. The situation is worse for 2-wheelers and especially for bicyclers because the drivers are not used to them, often don't see them or don't consider them as equal participants in the traffic. In addition the roads often are in bad conditions which further increases the risk of accidents.
Climate and nature
There are not many natural disasters here - floods and earthquakes are common, but most earthquakes are weak. Sometimes the winter can be harsh, and the worse problem is you can't predict when. You may have 20°C in January and -10°C in March even if 2 days ago it has been 15°C hotter or colder. It's a good idea to check the forecast and ensure you have warm clothes with you.
Visiting the mountains in the winter can expose you to risk of freezing and snow slides. If you are not experienced you should avoid going far away from the resorts or huts. In the summer more common problem are the thunders, so again, check the forecast or just ask someone what will be the weather in the next few days. Bulgarians are very concerned not to catch cold so they usually know when the weather is getting worse.
There are a couple of poison snakes here but it's rare to see them in the city and a bite from such a snake is almost never fatal. Perhaps the most dangerous animals here are the stray dogs, available in big cities and especially in Sofia. Most aggressive ones are usually shelted or killed, but you can still have close encounters of the third kind. This advice is somewhat useful in such case. Cases of rabies are very rare in Bulgaria but you should still visit a doctor if you ever get bitten by a stray dog.
Health risks
There are no required vaccinations for visiting Bulgaria, no tropical diseases or other third-world stuff to worry about. The highest health risk is perhaps to catch flu in the cold season, which is very common. Most of the places which sell food are safe and food poisoning is extremely rare - of course you should avoid obviously dirty places. Tap water is safe to drink almost everywhere.
comments powered by Disqus