Transport in Bulgaria
This page is about transport inside Bulgaria. If you want to know how to get in here, check out the related section in WikiTravel.
Bulgaria is relatively small country and in theory it's possible to get between any two points in a single day. If you want to use public transportation you may need more than a day for reaching an obscure place. Keep reading for more info.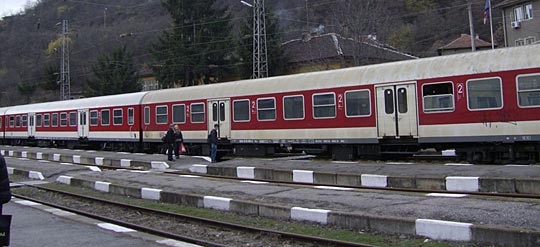 Trains, Buses or Airplanes?
Most places in Bulgaria are reachable by bus and train, and very often you can choose between the two options. There are regular planes only between Sofia and Varna and Sofia and Burgas.
Airplanes

Because of the very few routes airplanes serve there isn't much to tell about them. Unless you get a ticket in advance or catch a promotion the journey will be significantly more expensive than the equivalent train or bus journey. Planes of course are much faster - a flight from Sofia to Varna or Burgas only takes about 45 mins.
Trains
Bulgarian rail network is well developed and reaches most important cities and many towns and villages. Traveling by train is comfortable as long as you have a place to sit: you can reserve such place for only €0.25 so it's worth the money if you are going on a long ride. Overnight trains usually offer 3 types of sleeping compartment:
First class - 2 beds
Second class - 3 beds
Couchette - 6 beds
There isn't big difference between first and second class and both are fine. I recommend you definitely to avoid the couchette class, it just doesn't offer enough space to feel comfortable. Sleeping tickets may be hard to find around holidays so you'd better try few days in advance.
While the ticket officers at the international ticket desk talk good English (and perhaps other languages), you may not have the same luck at the desks of local trains, especially outside of Sofia. In such case you may try to talk Russian if you know it.
Bulgarian trains are not very fast. A journey from Sofia to Varna takes nearly 8 hours so you may prefer to get overnight sleeper trains for long distances. Sometimes distances which look close may take 4-5 hours ride, so check the Bulgarian Railways site for timetables (sorry, no English version).
Coaches
Coaches are not very different to trains in terms of speed. Because there are not many good highways here a bus journey from Sofia to Varna will take 6-7 hours - slightly less than a train but less comfortable too. Long distance coaches are typically advertised as luxury but all the luxury inside is a TV and video with old action movies shown, and an AC.
The price of bus tickets is usually a bit higher than the train tickets. They are also less organized and less predictable in terms of travel schedule, especially in the winter. The winter here is sometimes severe and roads may get blocked so if you are traveling in the winter it might be better to take the train.
Many small towns and villages are reachable only by bus. Sometimes these buses may go through a big city and be called city buses, other times they will be coaches serving only passengers between remote locations. This can be confusing if you want to reach some small town or village, because the buses don't always run through the central bus stations.
Urban Transport
Most cities have some form of urban transport. Buses are available almost everywhere. Sometimes (often) they are old and dirty but safety is OK. Some cities, including Sofia, have also trolleybuses. If you have not tried riding a trolleybus in your country, you may enjoy it here. Trams and subway exist only in Sofia. Trams are usually slow, dirty and often crowded. Subway on the other hand is still clean, fast and keeps strict schedule. Except in the peak hours it's very comfortable, so if you are traveling inside Sofia check if there is a subway line covering your trip. Unfortunately subway does not yet cover all the important city routes, but they are working on this.
The cost of urban transport varies between cities and is usually around €0.5 for a single ticket. In some cities like Sofia you must have a ticket before getting on the vehicle and you have to perforate it yourself when you get in. In other cities (for example Varna) tickets are sold inside the bus. If you are unsure just ask someone before getting in to avoid hassles.
There are also various kinds of daily, weekly and monthly passes which are a good option if you are going to stay longer and use the public transport.
Taxis are reasonable option for urban transport too, just make sure to check the price list before getting in. Some taxi-drivers will be nice and happy to talk to you and help you showing routes etc. Others will try to cheat you as soon as they realize you are a foreigner. Be more careful with taxis around rail stations, bus stations and airports.
Urban transport in Sofia is a huge matter that's why we'll prepare a page about it. You will find also useful information how to use it for going between some important places in the city.
See also how to get from Bulgaria to its neighbor countries
comments powered by Disqus